Book your evening April 25, 2020
Let's share together a festive time between French and Australians
in order to provide a different and great memory of our ancesters
that went through intense moments on that conflict land.
During the first World War, the small village of Fleurbaix has been at the heart of the conflict and noticeably during the Battle of Fromelles that occured in part on the villages' territory. The village was only few hundred meters away from the frontline of the sadely notorious Battle.
Some Fleurbaix inhabitants helped by the Rotary Club of Armentières and the municipality of Fleurbaix wished to organize the Cobbers Night for the Australians that are descendant of the soldiers to meet the people of Fleurbaix that welcomed them, took care of them and thank them for their courage.
In 2020 it will be the fifth edition
The Cobbers night is a party with no fuss, no protocol. It is a such a great occasion to bring back together human beings that are separated by 15 000 kilometers of lands and oceans but so close by the events that their families lived through this War.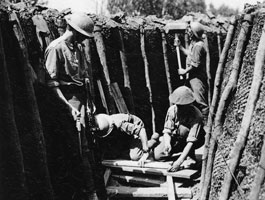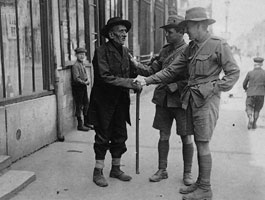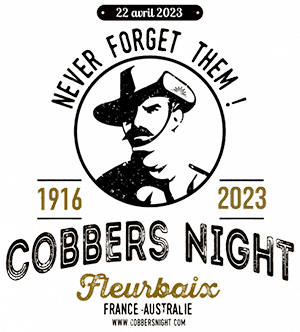 Cobbers Night 2020
Centre socio-culturel
10 rue du Quesne
62840 FLEURBAIX, FRANCE
April 25, 2019 at 7h30pm
Entry : 15 euros
Free for children under 12 years old.
Restauration and bar directly on site
No protocol, just new meeting place surrounded by folkloric music, songs and dances.
The entry will be available only by booking on this website.
The revenues of the Cobbers Night 2020 will be redirected to the settle of the Cobbers Night 2021 and to the development actions towards friendly relationships between Fleurbaisians and Australians.
I reserve
Centre socio-culturel
10 rue du Quesne
62840 FLEURBAIX
Museum of the Battle of Fromelles
Rue de la Basse Ville
59249 FROMELLES
Australian Memorial Park
Rue Delval
59249 FROMELLES
Antoine DESWARTE
Project Manager and Communication

Danièle AURICH
Contact, logistic Manager

Brigitte BOUT
Manager of the relationship between associations and the City

Elie Verwaerde
Catering Manager
Contact us
Do you have some remaining questions ? You can contact us directly by filling up this form